Feed Pads

GEA Cow Cooling - Feed Pads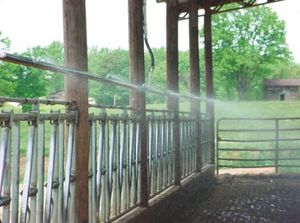 The C-440 S controller monitors the temperature by means of atemperature probe.
The system can be programmed so that when the temperature reaches the pre-set value,
the system would start and the controller would open the valves.
Similarly, the system can also be programmed to shut off when the temperature reaches a preset value.
Up to four alternate zones can be controlled between On and Off periods.
The Smart mode allows the controller to regulate the length of the On and Off periods.
For higher temperatures, the On periods will be longer and the Off periods shorter.
Once these values are programmed into the controller the system would work automatically.
• 15 to 20 psi head pressure water supply.
• Single phase to power controller
• Electric valve per zone
• Sprinklers 2 m apart standard.Range is 1.8 m to 2.4
m (6 ft to 8 ft).
• 130o nozzle angle (different to nozzle spray pattern).
• Nozzle height: typically a "high line" or "low line" installation.
Click here to view the Brochure GEA Feed Pads Brochure
TRUCK DELIVERY SERVICE
24 /7 BREAK DOWN SERVICE
Ph: 03 58712 433