Automatic Milking Machines


GEA Dairy Pro Q
Rotary Parlor Robot
GEA's DairyProQ rotary parlor opens groundbreaking production possibilities for milking herds of 500 cows and up. With 28-80 milking stations, approximately 120-400 cows can be automatically milked per hour, with just one operator supervising the entire process. Staff motivation rises with their new responsibilities revolving around animal management in an attractive, state-of-the-art workplace. You'll also reap the benefits of improved operations through structured processes and fixed working times
Click here to view the video:http://video.gea.com/gea-dairy-farming-automated-milking-with-gea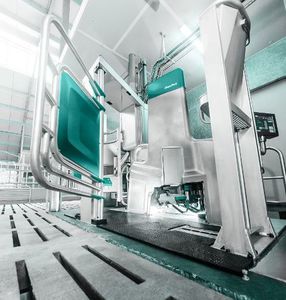 GEA Monobox
Automated Milking System
The Monobox Automated Milking System from GEA is now available in Australia. Delivering the ultimate in automated milking efficiency and performance, the Monobox ensures optimal milk harvesting in a stall designed for comfort.
With innovative in-liner cow prep and milking procedures, and the fastest attachment in the industry, the Monobox Automated Milking System features the latest in automated milking technology.
GEA Mononbox - A perfect fit during milking
GEA's unique in-liner-everything technology ensures efficient milking in one quick, uniform procedure. After attachment, each milking step – stimulation, teat cleaning, fore-stripping, milk harvest and post-dipping – is done inside the liner. With the fast milking process, cows spend less time milking and more time eating and resting. Plus, it allows for more milkings per robot per day.
The Monobox offers herds of any size milk harvest that is not only fast, but focuses on milk quality. High-tech sensors analyze milk color, conductivity and temperature, and the backflush process cleans and disinfects the milking unit between each cow.
The Monobox Automated Milking System can be seamlessly integrated into any cow traffic system and works with many different management styles. Its surface box mount makes it easy to install in new or existing barns. Maintenance is quick and convenient with the service-friendly robotic milk module. Certified Monobox dealers and GEA's support team provide expert resources and herd management services from planning and installation to start-up and beyond.
Click here to view the demo video:- https://www.youtube.com/watch?v=3PXcF8XnY5w
Click here to view the Monobox Milking Brochure - Monobox Milking
TRUCK DELIVERY SERVICE
24 /7 BREAK DOWN SERVICE
Ph: 03 58712 433