Misting Systems
Misting Systems
Installing an OZmist mist cooling system can alleviate the eects of our hot Australian summers by reducing shed temperatures by 10°C+.
By reducing body temperature, feed intake as well as the animal's general health and performance increase.
OZmist is Australia's leading supplier of high pressure cooling systems to the farming industry.
Designed and manufactured in Australia, our systems are easily installed and require very little maintenance.
They are easily retrotted into existing buildings.
In most cases they can be connected to existing electronic control systems or we can supply easy to use thermostat controllers.
OZmist have supplied dozens of systems Australia wide.
BENEFITS
* Easy to Install
* Minimum Maintenace
* Low Energy Use
* Low Running Costs
* Increased Production
FEATURES
* Increased food intake and utilisation
* Reduces animal heat stress
* Extends breeding period and growth rates
* Results in cleaner, drier surroundings than drippers
* Shortens growth time in summer
* Reduces water and energy consumption
* Can be used for aerial disinfection
NO WET GUARANTEE
OZmist high pressure mist systems are designed to be installed so as not to wet floors or surfaces.
Don't be confused, cheap tap connected systems will wet.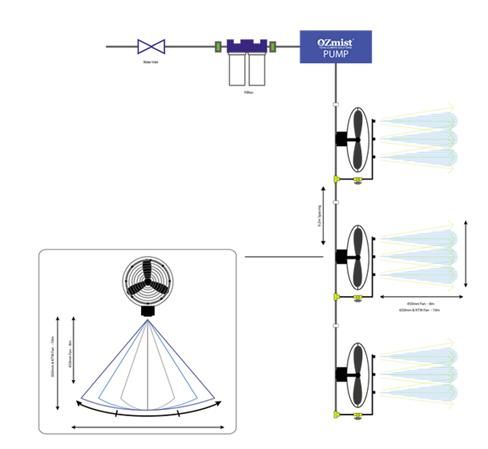 TRUCK DELIVERY SERVICE
24 /7 BREAK DOWN SERVICE
Ph: 03 58712 433